© Highpointers Club

to lookout tower summits
to floating and flow

Hiking, Peakbagging
and
Highpointing


[all logos are hotpoint links]

© NYS County Summit Club
"If I am asked 'what is the use of climbing this highest mountain?' I reply: No use at all -- no more than kicking a football about, or dancing, or playing the piano, or writing a poem, or painting a picture." -Mountaineer Francis Younghusband, 1913
"...to those who have struggled with them, the mountains reveal beauties that they will not disclose to those who make no effort. ... And it is because they have so much to give and give it so lavishly to those who will wrestle with them that men love the mountains and go back to them again and again ... mountains reserve their choicest gifts for those who stand upon their summits." -Sir Francis Younghusband 1
Trails compel me to discover what is around the bend or over the next ridge, and I have been answering that call since childhood. List-making is also part of my nature, so it was probably inevitable that my compulsion to walk to high places would lead to peakbagging2 and then to highpointing3. A like-minded spouse shared the adventures since he entered my life, and we included our children for the two short decades they lived with us. We savor a summit as a reward for effort. We had already visited several summits on various lists, when new resources made it easier to seek out new vistas and fanned the flames of our habits of peakbagging and woods walking. Highpointing takes us to explore new territory where we often learn some natural and human history along the way. We had visited 444 county highpoints in 40 states and highest ground of 34 states and the District of Columbia by the end of 2015.

Our children rode in backpacks before they hiked on their own legs. We selected hikes that matched their abilities so we could nurture their interest, and we are pleased that they are also hooked on walking in Nature. Walking together all day in wilderness is wonderful family time. We repeated many Colorado Fourteeners and Adirondack 46 with our children. They were collecting fourteeners by the age of 6, and some Adirondack 46 before the age of 10. They often walked more miles in a day than their age in years before they were teenagers. Our offspring continue to hike with us when we can all arrange time together, and they have visited summits that their parents have yet to see.


© Highpointers Mercantile
"In every walk with nature, one receives far more than he seeks." - John Muir
"A mountain is a friendly thing; it heals the hurts that cities bring." - Anonymous
4
© SAMiller 1969

Kilimanjaro [Kibo]
location: Tanzania, East Africa
elevation: 19,343 ft.
date on summit: 1 August 1969

Still 2 days walk from Uhuru Point on that cone of Kibo in the distance, I am enjoying that, on this saddle between Kibo and Mawenzi, I am above any elevation in Colorado, my home state. Kilimanjaro may be the only continental high point that I'll summit in my life, but it is a great one!


© Highpointers Mercantile
Other fine walks are not represented on a list of summits and highpoints. Pockets of old growth forest5 provide a different sort of impressive walk. Waterfalls, ponds and lakes lure non-fishing types, too. Ridge lines promise views. Valleys and canyons offer a challenge in reverse. Abandoned roadways and railroad beds and the old towns and mines they lead to give a sense of history. Walking through national battlefield parks and Native American mound sites found en route to a hike enriches understanding of current society. All provide natural enjoyment, intellectual enrichment and renewal. Excerpts from a poem6 and a September sunrise on the horn that is Mt. Toll, CO say it all.

Early Morning

Now in the early morning we arise.
The mountain waits above us there, . . .
All the sounds of mountain morning are around us
. . .
The topmost twigs . . . bend
And barely sound the early wind. . . .
A tiny stream maneuvers round our camp. . .

© SAMiller 1970

How can you say what makes one morning magic?
Some special blend of time and mind and place.
The climb? It's buried in a box of slides,
Just one more summit shot of grinning faces.
But that morning's carried with me as a charm
Against the city sickness of the head,
A memory and a promise of a time
When I was whole and wide awake, alive.

Sunrise on Mt. Toll, CO 12,979 ft.
Viewed from vestibule of our tent.
Maps provide a different visual arrangement of high point travels. I post an annual completion map on the County Highpointers website but removed more frequent updates from this website. Maps that displayed a county emphasis, a state emphasis, details of NY State, and many pages of lists of summits and firetowers may eventually be posted elsewhere. My statement about fire lookout tower summits remains on this website.

Fujisan has been on my to-do list since childhood.
Someday I hope to walk to this 12,388.45 ft (3776 meter) summit7.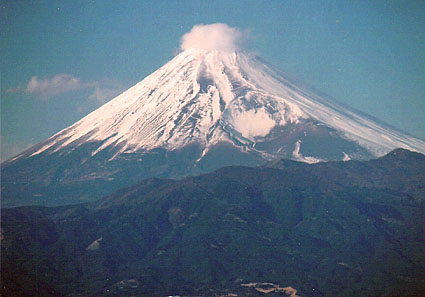 "Keep close to Nature's heart … and break clear away, once in awhile, and climb a mountain or spend a week in the woods.
Wash your spirit clean." - John Muir
Notes:
1. Sir Francis Younghusband, 1921, "Mount Everest:The Reconnaissance" Francis Younghusband was the first chairman of the Mount Everest Committee of the Royal Geographical Society.
2. Bruce Scofield gave a thoughtful definition of a peakbagger in High Peaks of the Northeast, 1993, New England Cartographics. "Peakbagging is the activity (some would say sport, others a religion) that involves climbing all the peaks over a specific elevation in a specific area. It's a type of superhiking; goal-oriented...., but also a lot like collecting. It motivates people to do some things they might not otherwise do, and it gives them a sense of accomplishment and reward. There are few rules to follow and plenty of room for individual choice. The challenge is not to defeat another person, but to meet the demands of the mountains themselves. It's also addicting. Upon completing a list, many hikers cannot wait to take on the next peakbagging arena."
3. "Highpointing" refers to the activity of reaching the highest natural elevation(s) in some specified region. The region could be a state, geographical area, country, continent, or the world. ... Highpointing is an excellent activity for individuals of all ages. Planning and then traveling to state highpoints involves healthy outdoor recreation with concomitant learning of state and regional geography and history. It's great fun, and can be a terrific personal, family, or group project. Some state highpoints can be done in a car as "drive-ups," some are easy hikes, others require cross country travel, and some involve climbing with considerable exposure or travel on glaciers where ropes are required." Thomas P. Martin 1997, 2004 " 'Highpointing' -- Summiting United States Highpoints for Fun, Fitness, Friends, Focus, and Folly"
4. scribbled in a summit register by someone else who enjoys mountains.
5. Kershner, B and R. T. Leverett, 2004, The Sierra Club Guide to the Ancient Forests of the Northeast, Sierra Club Books.
6 Miki Magyar, 1974, Early Morning, summit a mountaineering magazine 20(6): inside cover.
7. Image from Monthly Mt. Fuji. Elevations from Mt. Fuji Facts and Information.
8. Thanks to Blue Max® for the flags!
to SAMiller's homepage
These organizations have been a part of our lives at some point. Each logo provides a link to their homepage


This page last modified: June 2016