Recent Department News
Faculty News:
Two visiting faculty members will be with us for the 2018-19 academic year. They are, Tyler Saxon and Jonah Yuen.

Julio Videras will direct the NYC Program for the Fall 2018 semester.

Two faculty members currently hold endowed chairs:

Derek Jones i

s the Robert D. Morris Professor of Economics and

Ann Owen

is the Henry Platt Bristol Professor in Public Policy.

.
Student Awards:
Congratulations to the seniors who received Honors in Economics in 2017-8: Zakary Baker, Samantha Benevelli, Isabella Bossa, Kaitlin Dunne, Alec Karanikolas, Theodore McKenna, Tim Nowacki, Yuxin (Ken) Shen, Junpei Taguchi, Case Tatro, Harrison Thomas, Brandon Willett, and Haoxing (Mike) Yang

The department selected Kaitlin Dunne, Case Tatro, and Brandon Willett to

receive the

Soper Research Prize in Economics

for the 2017-18 academic year.

The Department selected Theodore McKenna to receive the Senior Prize in Economics

for the 2017-18 academic year.

The Sidney and Eleanor Wertimer Prize Scholarships

in Economics for the 2017-18 academic year were awarded to Yongzheng Liang '19 and Jonathan Stickel '19.

This prize is awarded annually to juniors who have excelled in the study of economics.

Hamilton's 2017-18 members of

ODE

, the national undergraduate economics honors society, are:

(Seniors) Zacary Baker, Katherine Bauer, Hollister Bobola, Isabella Bossa, Kara Burns, Marielena Chacin Hiller, Daniel DePaoli, Lin Thu Do, Brian Doherty, Kaitlin Dunne, Emma Glicklich, Sarah Hoover, Jihnxian Hu, Emily Jeffries, Catherine McCutcheon, Theodore McKenna, Viktor Mehandzhiyski, Matthew Moros, Timothy Nowacki, Margaret Revera, Joseph Rokous, Jacob Slovin, Alexander Streich, Case Tatro, Harrison Thomas, Brandon Willett, Haoxiang Yang, Christine Zizzi, (Juniors) Jesse Bennett, Richard Court, V. Paul Giuliano, Christian Andrew Hansson, Bilal Mustafa, Elizabeth Cooper Warner and John Warren.

Over 60 women students and faculty of the Economics department held a dinner and workshop event in February.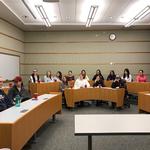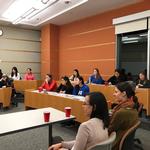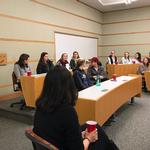 Student Research
Economics majors have worked with Economics faculty on Summer research projects in the recent past.
Professor Ann Owen and Jaemin Woo '17: "Forecasting Private Consumption with Google Trends Data"
Faculty Activities:
Recent and forthcoming publications are located on the faculty pages.