Mathematics at Hamilton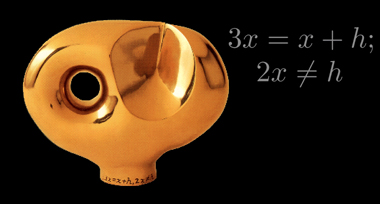 Bronze Torus with Cross-cap by Helaman Ferguson Hamilton-Mathematics '62
Mathematics is the language of science and of social science, of business and of commerce. The study of mathematics requires the ability to abstract and organize information, to reason and argue logically, to employ effective problem-solving strategies, and to communicate ideas and discoveries in a well-organized and precise fashion.
Students graduate from Hamilton with all these abilities, as well as strong communications skills and a demonstrated ability to deal with quantitative problems. Faculty members work closely with students in a variety of course formats ranging from formal lectures to intimate seminars. In each, the focus is on a two-fold goal of improving students' competence in the subject matter while providing skills useful in the wider arenas of the College as a whole.
The majority of Hamilton students who choose mathematics do so because they find it interesting in its own right rather than because they need it for some other goal. An average of 35-40 students major in math each year divided equally among men and women.
Placement Information
We include here a gallery of photos from recent (and not so recent) math department events to give an idea of what we do outside the classroom.
Picture from 2008 Hudson River Undergraduate Math Conference
Pictures from 2006 Senior Party
Pictures from 2005 Fall Picnic
Pictures from 2005 Hudson River Undergraduate Mathematics Conference
Pictures from 2004 Fall Picnic
Pictures from 2004 Senior Party
Pictures from 2004 reception for new majors
Pictures from 2003 Fall Picnic
Pictures Around the Department Spring 03
Pictures from 2003 Senior Party
Pictures from 2002 Fall Picnic
Pictures from 2002 Senior Party
Pictures from 2002 Hudson River Undergraduate Mathematics Conference at Hamilton
Pictures from 2002 reception for new majors
Pictures from 2000 Hudson River Undergraduate Mathemetics Conference
Pictures from 2000 reception for new majors
For more information about the Mathematics Department at Hamilton College, call or write:
Mathematics Department
Hamilton College
198 College Hill Road
Clinton, NY 13323

(315) 859-4782
FAX: (315) 859-4687
e-mail: math@hamilton.edu

Created by:
Richard Bedient
Last Modified: November 12, 2010