Media Scholarship in the Liberal Arts: Emerging Patterns
Throughout this two year project, we have been attempting to identify what it takes to sustain these multimodal courses on our campuses. The individual case studies are a wealth of information on pedagogical approach but we also wondered if analyzed collectively and semi-quantitatively, patterns might emerge to help us plan for growth of multimodal projects on our campuses over time. In reviewing discussion notes, eight topics were consistently visited in conversation and are listed as vertical components in Figure 1. We asked faculty to compare components of their media assignment to other types of assignments they have given by ranking these components in a Media Assignment Survey. Our goals were to seek verification of recurring discussion themes and to also gauge if any patterns emerged about multimodal assignments in courses. A total of 10 courses responded to this survey from our original 15 case studies. Figure 1 plots and summarizes these responses. We have included graphs of the individual course plots for the 10 courses who participated in the case studies section.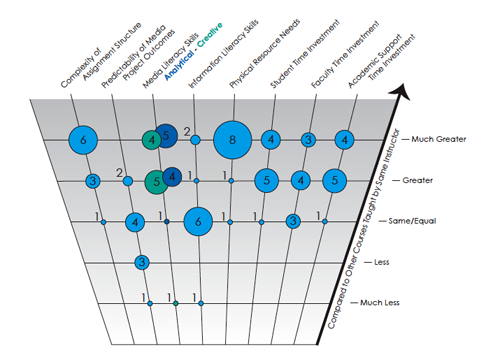 Figure 1. Summary Observations from 10 courses comparing media assignments to other types of assignments by the same professor.
The number and frequency of interactions in multimodal course assignments was greater (9 out of 10) than for other types of assignments given by these professors.
The predictability of the range of media project outcomes was variable in these courses. Most faculty attributed the range of outcomes as being part of a normal class distribution and not directly related to the nature of the multimodal assignment.
Media literacy skills had to be separated into analytical and creative skill sets because faculty viewed analytic media literacy skills as being different from the media literacy skills needed for creative production. Analysis of source, context, and deconstruction of formal elements and principles was seen as a necessary building step to development of creative media literacy skills.
Nine out of ten courses reported that students needed greater media literacy skill sets to accomplish multimodal assignments than they do for other types of assignments.
Six out of ten courses reported that the information literacy skill sets needed by their students in a course with multimodal assignments was similar to the other courses they teach. Three out of ten thought the information literacy skill needs higher than for other assigments they give. The courses reporting this were using the internet for much of their media content. One out of ten courses reported much less need for information literacy skills in part because most of the content was provided by the professor.
The physical resource needs for student multimodal projects are greater than for other types of assignments. Only one out of ten courses found the resource needs of the multimodal assignment to be the same as for other types of assignments. In this course, the students needed internet connections, Blackboard, and Powerpoint.
Nine out of ten courses reported that students spent more time working on the multimodal assignment than they do for other assignments.
Seven of the ten Faculty perceived their time investment in multimodal assignments as greater than for other types of assignments. This may be more attributed to the amount of collaboration with academic support than as a factor of the assignment itself.
Most faculty report that they invest about the same amount of time on all assignments they give to students. Multimodal assignments tend to include more "checkpoints" and interactions in the process that when tallied are probably equal to the time spent all at one time on a grading a research paper for example (see Wehrer's net estimate). There may be a correlation with the number of times a course has been taught and the perceived amount of time invested.
Nine out of ten courses report greater time investment by academic support (IT, library, oral communication) for multimodal assignments. Collaborations across the semester with academic support is a strong theme in multimodal assignments and includes student peer to peer instructional support needs as well as interactions with support professionals.