Welcome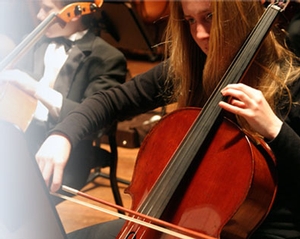 Students who have a deep interest in and commitment to musical study, whether as a music concentrator, a music minor, or a participant in department ensembles or classes, will find much at Hamilton to engage their continuing interest and development as musicians. As part of a liberal arts education, the study of music at Hamilton College incorporates the examination of theoretical concepts and historical contexts of various styles of music with significant opportunities for performance, both on and off campus. In addition to courses in music theory, history, solo performance, and group performance the curriculum includes courses in world music, American music, opera, the history of jazz, jazz arranging, contemporary music technology, women in music, and conducting.
All Music concentrators and minors as well as students enrolled in private lessons are particularly urged to consult the Music Department Handbook.
Additionally, this web site contains much of the information you will need whether you are a prospective student, a music concentrator, a member of an ensemble, or an audience member. You will find advice, procedures, and regulations about many of our programs. However, this site is not comprehensive. If you desire further details, you should consult the Department Handbook, which you can download as a pdf here. You may also want to visit this page about the Handbook.