Facilities
Schambach Center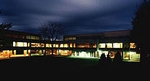 Dedicated in the fall of 1988 with gala concerts by the Saint Paul Chamber Orchestra and by Bobby McFerrin, the Hans H. Schambach Center for Music and the Performing Arts contains the 700-seat Carol Woodhouse Wellin Performance Hall, two large rehearsal halls, 15 practice rooms, faculty offices and classrooms. Facilities for music also include a well-equipped studio for electronic music; a music library that contains more than 25,000 records and compact discs; and state-of-the-art listening and video equipment.
Wellin Hall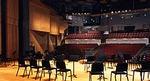 The Carol Woodhouse Wellin Performance Hall is the center of concert life at Hamilton. About twenty student, faculty and professional concerts take place in this 700-seat auditorium every semester (including the Performing Arts at Hamilton series). These concerts draw audiences from the college and surrounding communities. Also, the Masterworks Chorale, the Orchestra, and the Jazz Ensemble rehearse weekly on Wellin's stage.
Music Library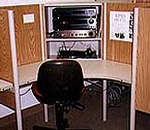 The Music Library (in the lower level of McEwen) is a branch of Burke Library and houses a collection of about 28,000 recorded items of classical, jazz and world music, and an uncatalogued collection of Broadway musicals. These recordings do not circulate. The library also houses the college's collection of musical scores, most of which do circulate. Books on music are held in the Burke Library. The Music Library has ten listening stations, and items you will need for course listening, reading, and viewing are placed on reserve here, with some reading assignments available on-line as well. The Library is a comfortable, quiet, air-conditioned place to study or listen for pleasure. Food and drink, however, are not permitted in the library at any time. Open every day during the semester, the Music Library is an important resource for both music and non-music students.
The general phone number and circulation desk for the music library is 859-4348. You may reach the Music Library Coordinator at 859-4349. For questions of policy, reference, and collection information, please ask for the coordinator.
Practice Rooms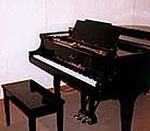 The Music Department has 11 practice rooms. Seven of these rooms have baby grand pianos, the majority of which are Steinways. Most of these rooms are open to all students, while some are only available to students who are taking private lessons. The department pianos are tuned and serviced regularly by Lee Piano Services. All problems with department pianos should be reported to Colleen Pellman.
Because the soundproofing in all the practice rooms is of limited effectiveness and because they are in close proximity to classrooms and offices, NONE on the second floor of List are available for use by campus bands with drum sets or amplified instruments. For the same reason, classrooms in Schambach and List are also not available for use by campus bands with drum sets or amplified instruments. Students are advised to inquire at the Office of Residential Life for space where groups using amplified instruments can rehearse without disrupting the studies of other students.
Electronic Music Studios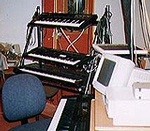 Samuel Pellman, Director of the Studio for Contemporary Music, offers two studio courses: Music for Contemporary Media (277) and Electronic Arts Workshop (377). In addition, students also use the studio for a variety of projects that include recording and/or composing.
What's inside the studio? Come see!
Instruments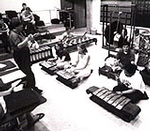 Instruments of various kinds are available for student use without charge. The College possesses several Steinway grand pianos, a variety of wind, brass and string instruments, a two-manual Noack organ (in the College Chapel), a Steinmeyer one-manual Positif organ, a two-manual Dowd harpsichord, a Fudge clavichord, banjos, African drums, and a Javanese gamelan.