Appropriate Attire for Student Concerts, List/Wellin Musicales, and Student Recitals
The Student Concert, List/Wellin Musicales, and Student Recitals are semi-formal events, not casual performing opportunities like the Weekday Musicales. Appearance goes hand in hand with performing skill, and students should present themselves as well as they possibly can. Clothing that is appropriate for evening wear, parties, or other festive occasions is often not appropriate or suitable for performances on stage. Here are recommendations for concert attire.
Men may wear: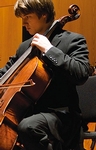 a suit and tie or
dress pants (dress khakis are O.K.) and sport coat (optional)
dress shirt with tie
dress shoes and dark socks
No sneakers, sandals, white socks, jeans, t-shirts or polo shirts.
Cologne should not be worn.

Women may wear:


a short sleeved dress (knee-length or below) or
a skirt (knee-length or below) and blouse or
dress slacks and blouse or
a suit
hose and dress shoes
No tank tops, spaghetti-strapped shirts, mini-skirts, backless or low-cut tops, flip-flop shoes, bare legs or bare midriffs. Sandals should be dressy and worn with sheer toe hose. Bare shoulders are not appropriate.
The selection of shoes should be done carefully. High heels often look and sound quite awkward while walking on a wooden stage floor. Also, they are often not the best choice for singers, any performers who stand when playing, and pianists who must use pedals. Consider a low, soft heel!
Perfume or cologne should not be worn.
If you are uncertain about performance clothing, please consult your instructor and follow his/her guidance.