Wellin Hall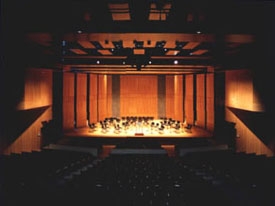 For the Performing Arts Calendar, click here.
If you wish to reserve Wellin Hall, please contact Michelle Reiser-Memmer.
For technical information about Wellin Hall, please contact Bill DiPaolo.
Telephone numbers:
Box Office - 315.859.4331
Lighting Booth - 315.859.5002
Sound Booth - 315.859.4950
Seating:
The house seats 698 and is wheelchair accessible on the
upper level. Approximately 35 seats are lost when the orchestra pit is up.
Stage: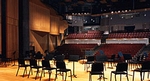 Proscenium Arch width: Max 48'0" Min 40'0"
Height: Max 30'0"
Depth from smoke pocket to back wall: 36"0"
Depth from smoke pocket to last line set: 35'6"
Depth of apron from front of smoke pocket: 3'0"
Off stage wing space:
Stage right: 24'0", Stage left: 20'0"
Cross over: Upstage of back wall
Stage floor is pine, well sprung for dance, cannot be nailed
Fly system:
The fly system is single purchase counter weight.
There are 30 pipes.
The pipes are 54'0" long.
High trim of pipes is 42'0"
Pin rain is located stage left.
There is no house curtain.
Crew/Stage Hands:
Concerts and smaller touring companies typically use student crews. Larger touring companies typically use union crews from the Utica I.A.T.S.E. local.
Dressing Rooms:
Two dressing rooms comfortably accommodate 12 people each. Dressing rooms have makeup counters, mirrors, lights, costume racks and sinks. Rest rooms and showers are nearby. Restrooms and dressing rooms are on a hallway off stage right. This is a public hallway and cannot be closed to the public.
Sound:
The hall has a large inventory of sound equipment including: Yamaha mixer with 16 dual inputs, 2 outputs plus 4 matrix monitor outputs. House speaker cluster is MONO and high quality, 4 JBL EON powered monitor speakers, 6 other monitor speakers, 18 various microphones. Monitor outputs throughout the house and catwalks. Playback equipment for CD, cassette tape, reel to reel tape and DAT. 6 station TELEX headsets. Ample mic and speaker cables. There is no page mic to the dressing rooms.
Acoustic Drapes:
The hall is equipped with acoustic drapes which can be opened to deaden sound. These are typically employed when using amplified sound.
Orchestra Pit:
Orchestra pit: 50'0" x 12'0". The orchestra pit is typically at audience level and has seats on it. It can be raised to stage level. This is often done for symphony orchestras. Moving the pit takes a crew of eight one full work day. This is expensive and must be arranged at least one week in advance.
Lighting:
Company switch is located Stage Right (Bare wire connector).
120 volt 3 Phase - 4 wire, 400 Amps per leg.
Front of House transfer panel has 36 circuits.
Cherry picker available for focus can reach pipes trimmed to 24'0".
Two follow spots on catwalk: 40'0" from stage.
Front of House lighting: 12 @ 6 x 12 lekos 1K, catwalk position.
All other lighting equipment is rented.
For companies that do not carry electrics we suggest a light plot of no more than 90 units.
Masking and Draperies:
4 pairs of hard legs move on and off stage but not up and down - covered in black velour.
4 hard borders hung permanently on battens 4, 10, 16, 22 - will trim in and out covered in black velour.
Additional draperies include:
Cyc: White scrim and bounce 40'0" wide 20'0" high
1 pair black velour legs (to mask scrim)
Portal: 1 pair black velour legs @ 30'0" high 14'0" wide
black velour border @ 50'0" wide 8'0" deep
Dance Floor: black dance floor covers 48'0" wide 30'0" deep
Lighting for Concerts:
The hall is equipped with 6 banks of strip lights to provide ample concert lighting. These strip lights are controlled individually from the lighting booth to accommodate any size stage.
Concert Shell:
Wellin is equipped with a permanent concert shell. The shell consists of eight vertical reflective panels, four on each side of the stage and four ceiling pieces. The side panels track on and off stage and pivot to create a performing space large enought for a symphony orchestra or small enough for a solo artist.
Orchestra Equipment:
100 Chairs
6 Cello chairs
100 Music stands
Conductor's podium
Wenger risers