Choral Ensembles
Hamilton College Choir | College Hill Singers | Masterworks Chorale | Director | Auditions
About Us
Welcome to the Hamilton College choral page! Our choral tradition at Hamilton is one that dates back over a century, and we are proud to carry on that legacy today. With three choirs and the opportunity to study privately regardless of your concentration, there is a place for everyone in our program. With musicians involved with every academic discipline on campus, our program is proud to champion the values of musical excellence, community, diversity, and multiculturalism.
The Hamilton College Choir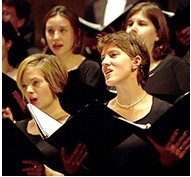 Rehearses Mondays and Wednesdays 7:30-9:00 PM
The Hamilton College Choir is our program's large auditioned choral ensemble. The College Choir performs music from all periods with concerts both off and on campus. Members are experienced singers representing a wide variety of majors from across the college. In addition to campus and community concerts and collaborations with professional instrumental ensembles, The Hamilton College Choir frequently embarks on a college ambassador tour every year. Recent tours have ranged as far as Chicago to the west, Boston to the east, Montreal to the north, and Atlanta to the south. In addition, the Choir regularly tours abroad to Europe, most recently in 2017.
Back to top
The College Hill Singers
Rehearses Mondays and Wednesdays 6:00-7:20 PM
Our premier choral ensemble, The College Hill Singers, is a highly select chamber choir specializing in a cappella repertoire from the entire canon of choral music from around the world. Because members of this ensemble are singers with excellent musical skill and vocal ability, The College Hill Singers are also members of The Hamilton College Choir. This ensemble undertakes an active performance schedule, frequently called upon to represent the college community through song at local, national, and international events.
Back to top
The Masterworks Chorale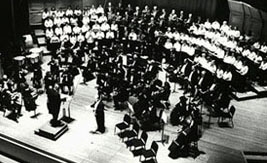 Rehearses Sundays 7:00-9:00 PM
The Masterworks Chorale brings together Hamilton students, faculty, staff, and their families with members of the surrounding communities to sing the canon of choral masterworks.
Director of Choral Activities and Vocal Studies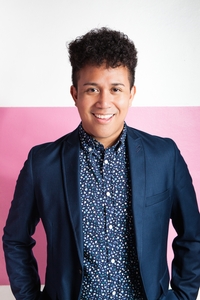 An advocate for contemporary choral music, Dr. Jace Kaholokula Saplan focuses his research on multicultural perspectives in the choral rehearsal; intersections of choral pedagogy, gender, and sexuality in communities of color; and native Hawaiian agency in music.
Saplan is the artistic director of Na Wai Chamber Choir, a professional vocal ensemble based in Hawai'i and has served as the chorus master for the Frost Opera Program at the University of Miami, where he prepared a number of innovative and contemporary works such as Golijov's Ainadamar, and Karen Kuster's Old Presque Isle, done in collaboration with the John Duffy Composer's Institute and the Virginia Arts Festival. He has led interest and reading sessions at the state, regional, and national level for the American Choral Directors Association, National Association for Music Educators, National Collegiate Choral Organization, and the LGBTQ Studies in Music Education Conference.
Submitting an Audition Recording with your Application to Hamilton
On CD (preferred) or DVD, please include two musical works (or movements of works) that demonstrate contrasting styles, and that best show your musical abilities. Please send directly to the Admissions Office. If you are going to visit the campus, why not audition in person! Just contact Professor Saplan.
Auditions for Choral Groups
Auditions take place during Orientation Week in August and during the first week of classes during the Fall terms. Sign-up sheets are posted outside Schambach 208.
Back to top
What Singers have to Say:
"Choir is ... the absolute best thing at Hamilton."
Tom Williams '11
"Joining choir was the best decision I made in college. Hands down I miss it so much, there are no words!"
Fiona MacQuarrie Helmuth '09
"I love singing with such a large, talented group of people. As a first-year, the challenging material we are singing seemed quite an undertaking, but it was a challenge well worth the reward of sounding beautiful by the end of our six day tour."
Katya Efimenko '02
Additional Information
Have some questions?
Professor Jace Saplan
Department of Music
Director of Choral Activities and Vocal Studies
Hamilton College
198 College Hill Road
Clinton, NY 13323
315.859.4864
jsaplan@hamilton.edu