Hamilton College Jazz
The Hamilton College Jazz Ensemble
The Jazz Ensemble was founded in 1971 for the study and performance of a variety of jazz styles. It affords students opportunities to study improvisation within a big band context. The Jazz Ensemble has played with, or been coached by, guest artists who include world-class musicians Milt Hinton (bass), Clark Terry (trumpet), the Mitchell/Ruff Duo (horn, bass, piano), and Joe Williams (vocal).
[to be inserted] to hear the Jazz Ensemble as they jam! (mp3 file - 390K)
The Jazz Combo
The Combo is a small select band (or bands) made up of members of the larger ensemble. They rehearse under the direction of Prof. Woods, and they also rehearse on their own. They play concerts with the ensemble as well as their own gigs.
Jazz Improvisation
Prof. Woods teaches a partial-credit course each semester in Jazz Improvisation. Students in the ensembles gain more experience with improv, and students who are not yet ready to join the ensembles gain valuable experience and skill in jazz and improv.
Our Director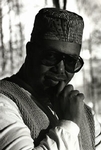 "DOCTUH" MIKE WOODS, Professor of Music, has performed in jazz concerts since the age of eleven. He holds a bachelor's degree in composition, two masters degrees in jazz and composition, and a DMA in Composition from Oklahoma University. Woods has been recognized for his jazz compositions which have been perormed by the Tulsa Philharmonic and the Pittsburgh New Music Ensemble. In 1978 he won a grand from the National Endowment for the Arts. As a performer, Doc Woods is a fine jazz soloist on electric bass and has performed widely with his fusion group called ZOE.
Some of Our Tunes!
John LaBarbera - Toothless Grin
Charlie Parker - Now's The Time
Matt Harris - Jungle Gym
Sammy Nestico Doin' Basie's Thing
Oliver Nelson - Stolen Moments
Duke Ellington - In a Mellow Tone
Jerome Kern - All the Things You Are
Sammy Nestico - The Plunger
Monk Rowe - At Both Ends
Thad Jones - Big Dipper
Clifford Brown - Joy Spring
Billy Strayhorn - Take the "A" Train
Thelonius Monk - Straight No Chaser
George Gershwin - Strike Up the Band
Cole Porter - I Love You
Kaper & Washington - Green Dolphin St.
Rogers & Hart - Have you Met Miss Jones
Kenny Dorham - Blue Bossa
Steely Dan - Peg
Cole Porter - You'd Be So Nice To Come Home To
Ray Henderson - Bye Bye Blackbird
Thad Jones - A Child is Born
Sonny Rollins - Oleo
Joe Zawinul - Birdland
Mike Woods - Life Saver
Submitting an Audition Recording with your Application to Hamilton
On CD (preferred) or DVD, please include two musical works (or movements of works) that demonstrate contrasting styles, and that best show your musical abilities. Please send directly to the Admissions Office. If you are going to visit the campus, why not audition in person! Just contact Professor Woods.
Auditions for Jazz Ensemble
Auditions take place during Orientation Week in August and during the first week of classes.
Contact Professor Woods for more information.
What Jazz Ensemble Members Have to Say:
"The Jazz Ensemble is a class where creativity and individuality are very much welcome. It's a class of about 34 student players who all take their position to heart. With a director like Doc Woods, it is hard not to. The atmosphere is lively and fun!"
- Chris Fogelstrom '03, drums
Have some questions?
email, call, or write:
Professor Michael Woods
Department of Music
Hamilton College
198 College Hill Road
Clinton, NY 13323
315.859.4261
mwoods@hamilton.edu