duration - 1'32"
---
Here is a 22 second audio clip from the middle of the piece: mp3 File (352K)
Click this image to see a compressed version (a 7.4 MB mp4 file) of the multi-media version of this work, with video by Lauren Koss: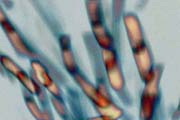 ---

PROGRAM NOTES: When Voyager 2 passed by Uranus in January of 1986 it returned photographs of a big, blue-green ball of gas with few readily discernible features. More recent observations from Earth-orbit have confirmed evidence of great winds and related meteorological phenomena in the atmosphere that is Uranus. More detailed conceptions of the Uranian environment, however, must remain in our imaginations, at least for now.