Research Beyond Hamilton
* Antarctica, Patrick Reynolds - Geology Professor Eugene Domack and Biology Professor Patrick Reynolds have been
funded by the National Science Foundation to research marine geology and biology on the eastern Antarctic Peninsula. An expedition made up of Hamilton students and faculty departed Punta Arena, Chile on May 9 aboard the National Science Foundation's R/V Nathaniel B. Palmer for a three week expedition to the Antarctic.

* Whiteface, Ernest Williams - Every fall, Hamilton's Ecology class and Biology Professor Ernest Williams take a trip to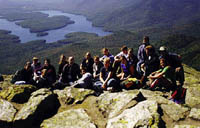 Whiteface Mountain in the Adirondack High Peaks Region to observe how the vegetation changes with elevation.
* Costa Rica, William Pfitsch - An important goal of this 12 day field trip was to design and carry out a variety of research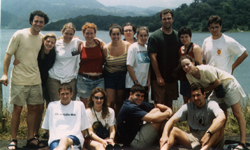 projects in two different tropical ecosystems. Experimental design was discussed extensively as a class, and for most projects all class members participated in data collection. This web page links to summaries of the student posters presented at the end of the course.