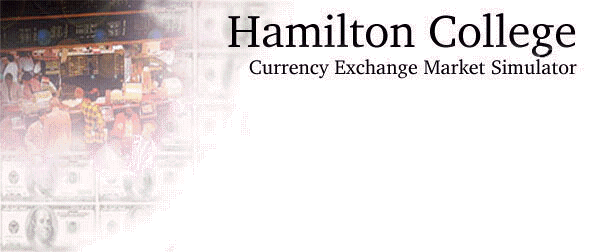 Welcome to the
Hamilton College
Currency Exchange Market Simulator v1.0b
The Currency Exchange Market Simulator is an Internet Playable, Multiplayer, Real-time Simulator with many features:
Up to 255 Players.
Unlimited and Timed games.
Post-game statistics including exchange rate change over time
Real-time chat with the other players.
System Requirements:
Netscape Communicator 4.x w/ JDK 1.1 Support (both available below).
NOTE to Macintosh users: Presently, Netscape does not provide JDK 1.1 support for the Macintosh;
until JDK 1.1 for Mac becomes available, this Java applet will not function on that platform.