People

Andrea Townsend
Assistant Professor, Biology Department, Hamilton College
I am interested in how changing environmental conditions affect the behavior, fitness, and populations of birds. My research foci have included disease and inbreeding depression in urban birds, the evolution of mating systems in cooperative corvids, the effects of climate change on population dynamics of songbirds, and the conservation genetics of island endemics. Currently, I am examining the effects of urbanization and other land-use change on disease prevalence in birds, and how disease influences avian social behavior. I am also interested in the role of wild birds as transport hosts for human pathogens. My lab includes undergraduate seniors at Hamilton College as well as postdocs and graduate students at UC Davis and UCSF.
Contact Andrea: aktownse@hamilton.edu
Hamilton Senior Project Students, 2014-2015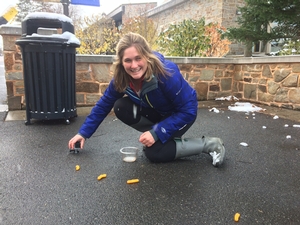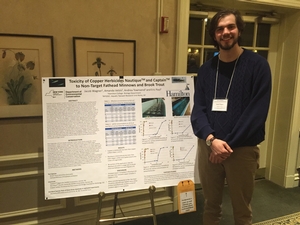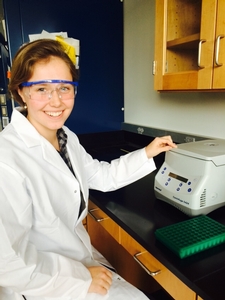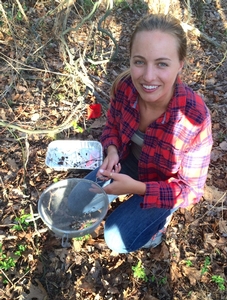 My senior project students study different aspects of behavioral ecology, ecotoxicology, and disease ecology. Rachel Landman is examining factors that affect neophobia (fear of novel objects) of crows within the urban environment. Jacob Wagner is collaborating with ecotoxicologists at the Rome Fish Hatchery to identify aquatic herbicides that are effective at controlling aquatic plants with minimal impact to fish. McKenna Kelly is examining the prevalence of antibiotic-resistant bacteria in the feces of American Crows with distance from hospital intensive care units, a putative point source of exposure for wildlife.Olivia Garvey is examing the relationship between small mammal activity and the density of deer ticks in New York and lone star ticks in Tennessee.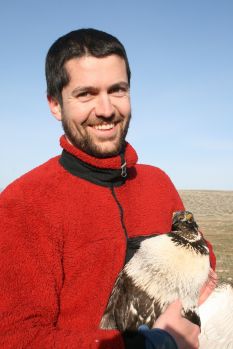 Conor Taff
(USDA postdoctoral fellow, Department of Wildlife, Fish, & Conservation Biology, UC Davis)
Conor completed his PhD in 2013 under the direction of Gail Patricelli in the UC Davis Animal Behavior Graduate Group. For his dissertation, Conor studied the evolution and function of multi-modal sexual signals in Common Yellowthroat warblers. His main questions dealt with 1) the function of complex signals in mate choice and how the sexual selection changes in heterogeneous social and ecological environments and 2) the physiological basis of signal production and how physiological constraints can enforce honesty in sexual signals. Conor has been working on developing projects on urban crows since 2012 and officially joined the Townsend lab as a USDA Postdoctoral Fellow in the fall of 2013. Conor's fellowship will fund work focused on the ecology and epidemiology of Campylobacter jejuni in wild crows and transmission to domestic animals. Specifically, Conor will be collecting movement data from crows to look at the potential for both local and long distance transmission of pathogenic bacterial strains and will be contributing to sequencing work to determine exactly what strains of Campylobacter crows carry.
Read more about Conor's research on his website: www.conortaff.com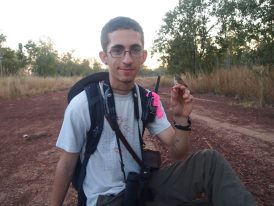 Mitch Hinton
(graduate student, Animal Behavior Graduate Group, UC Davis)
Mitch received his bachelor's degree at Tulane University in New Orleans, Louisiana where he worked in both Cori Ricahards-Zawacki's and Jordan Karubian's labs. While working with Cori, heconducted a series of surveys for the fungal pathogen Batrachochytrium dendrobatidis (Bd), responsible for chytridiomycosis in amphibians, with the goal of determining prevalence in wild Louisiana crayfish. Crayfish have been found to harbor Bd infection and may play a role in the ecology of the disease as potential reservoirs and/or vectors. While working with Jordan, he investigated patterns of aggression in a captive group of American Flamingos using Social Network Analysis and studied habitat preference of an Australian passerine, the Red-Backed Fairy-Wren, in a fire disturbed environment. For his MS thesis, Mitch examined the role of horizontal transmission of West Nile Virus among American Crows as a mechanism for overwinter maintenance. For his PhD work, Mitch is examining the ontogeny of personality in Wood Ducks.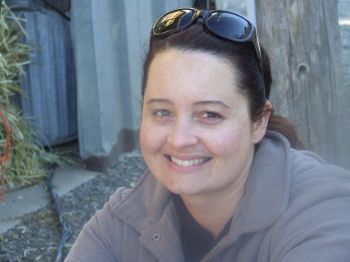 Sarah Wheeler
(Postdoctoral Associate, School of Veterinary Medicine, UC Davis)
Sarah received her doctorate in comparative pathology with a designated emphasis in vectorborne diseases from UC Davis in 2011. In her dissertation research, Sarah examined persistent West Nile virus infections in wild birds in lab of Dr. William Reisen, director of the Center for Vectorborne Diseases, School of Veterinary Medicine. For her postdoctoral work, Sarah is examining the relationship between coinfection and WNV mortality in crows (Townsend Lab), chronic WNV infections and recrudescence in House Sparrows (Reisen Lab), and vertical transfer of WNV resistance in Island Scrub-jays (Boyce Lab).