The Kevin and Karen Kennedy Center for Theatre and Studio Arts
In all our studios, and at all levels of coursework, generous studio hours are offered for students to work outside of class time. Most studios are available in addition to class time from 8:00 am until midnight seven days a week.
• Drawing Studio
• Painting Studio
• Printmaking Studio
• Foundations Studio
• Black and White Darkrooms
• Digital Art Labs, Video/Audio Production Rooms, Mat & Print Room
• Sculpture, Clay Mixing, Casting Studio, Hot Shop, Wood Shop
• Spray Booth
• Senior Studios
• Studio Art Classroom
• Critique Space
• Linda Johnson Gallery
Our MSDS and safe material handling information can be found here.
Drawing Studio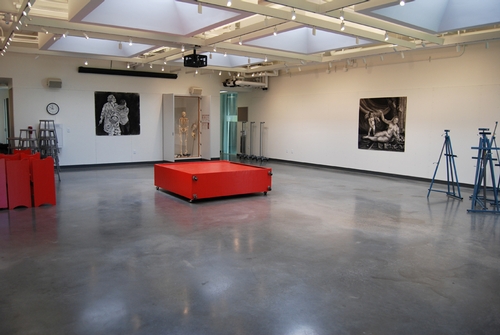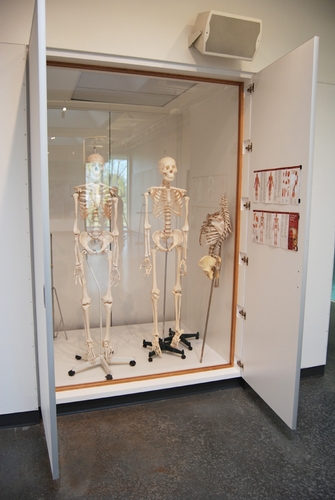 The Drawing Studio is a beautiful space for figure drawing with amazing skylights and a beautiful view of campus. It is outfitted with drawing donkeys, easels, and two rolling model stands. Spacious vertical storage is available for works in progress as well as generous tool and material storage. There is also a transparent closet for student to draw from our many skeletons. State of the art ventilation and image projection are provided in this studio.
Painting Studio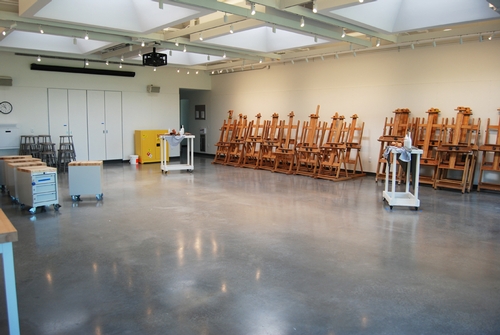 The Painting Studio houses high quality adjustable wood easels and locking Lista taborets. Spacious vertical storage painting racks are available for works in progress. This studio also houses skylights, state of the art projection equipment and ventlation. A model stand and safetykleen are also available for daily use. This studio has a wonderful view and has generous natural light from the north.
Printmaking Studio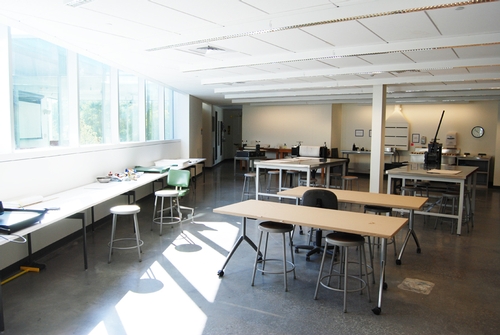 The Printmaking Studio has three etching presses, two hot plates, and state of the art acid hood and ventilation for classes in intaglio. We also offer Lithography with a vast array of stones and a Lithography press to support this traditional process.
Foundations Studio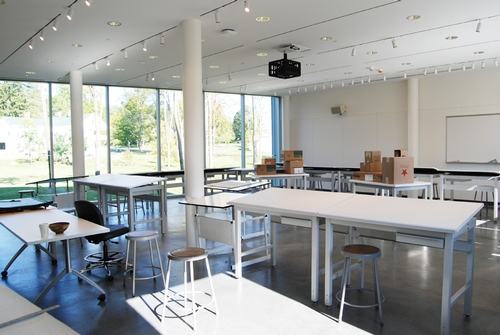 The Foundation studio hosts our courses in Drawing and Foundations. This space hosts wonderful natural light with a state of the art projection and ventilation system. Our extensive nature and object library is housed here.
Black and White Darkrooms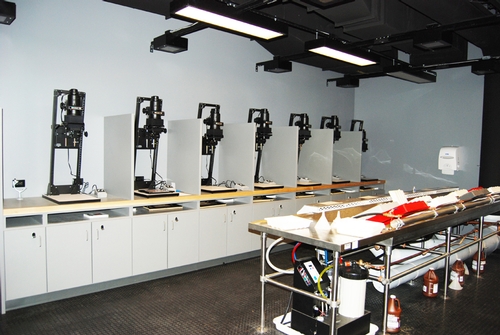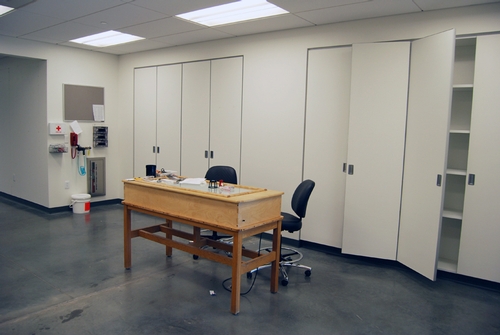 The Art Department offers students the opportunity to learn traditional black and white darkroom printing and to work extensively with analog cameras. The introductory darkroom includes nine 23CIII Beseler enlarger workstations and a large processing sink. The advanced darkroom has four 23CIII Beseler enlarger workstations and two 45 Beseler enlarger workstations, as well as its own sink. The darkroom also includes a film drying room and two dedicated film loading and processing rooms. The studio utilizes tray processing with the ability to print up to 16"x20" RC or Fiber based silver gelatin prints. We have generous drying rack space as well as two Seal Commercial dry mount presses. A spacious light table is available to view negatives as well as Rototrim Pro 24" and 44" cutters for finished prints. Three 4x5 view cameras, one 4x5 pinhole camera, six Mamiya medium format cameras, three Lowel tungsten lighting kits, one Elinchrom D-Lite portable flash kit, Vivitar flashes and six Bogen tripods are available for student use.
Digital Art Labs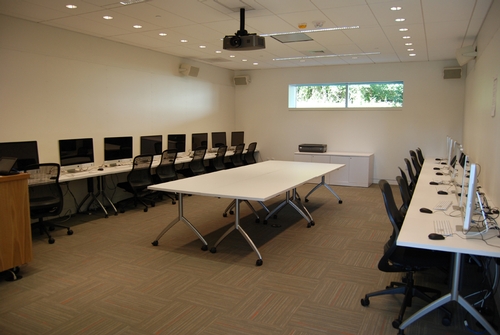 Our two Digital Art Labs feature professional class hardware and a robust network infrastructure, specifically designed to handle the rigors of multimedia authoring. The lab houses sixteen 27" Apple iMacs with 3.4 GHz Quad-Core Intel Core i7 Processors, 8GB RAM, 1TB Hard Disk, SuperDrive, 2GB Graphics Card and operate on the latest Mac OS X.
To support student work the lab offers a Flextight X1 scanner capable of scanning up to 4"x5" film and a EPSON Expression 10000 large-format flatbed scanner with scanning up to 12"x17". Students also have access to Canon HF G10 Hi-Def video cameras, Canon T4i DSLR cameras, Zoom digital audio recorders and supporting equipment including tripods, microphones and light kits.
STARS (Studio for Transmedia and Related Studies) is a site for interdisciplinary and cross-disciplinary exploration. Students can study digital media, music, and theatre in these labs and supporting technology spaces. To learn more about the Digital Arts Minor please visit here.
Video/Audio Production Rooms
Students in digital courses have private, sound proof editing rooms for their work in sound and video.
Mat and Print Room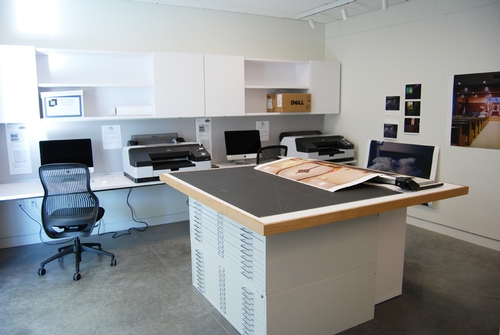 The Digital Lab's Mat and Print Room provides state of the art facilities for scanning of film negatives and digital printing. It offers three iMac stations with direct connections to two 18" wide Epson 4900 printers and one 44" wide Epson 9900 printer. In addition, it offers up to 4x5" negative scanning on a Hasselblad Flextight X1 scanner. Additional features include a print viewing wall, flat file storage and a compressed air outlet.
Sculpture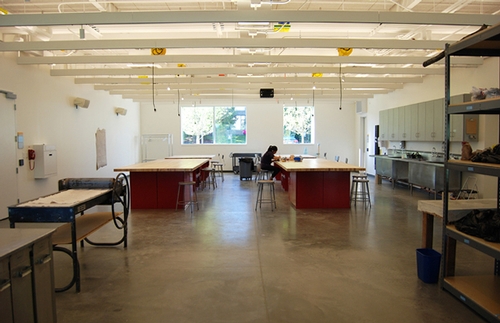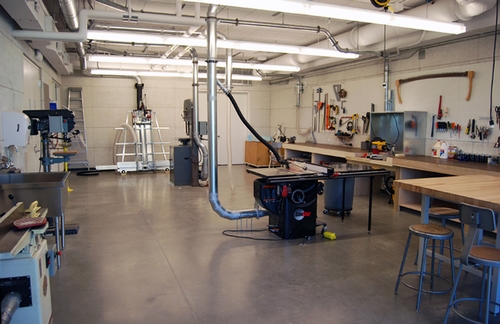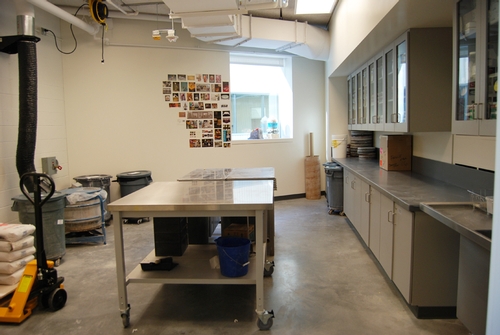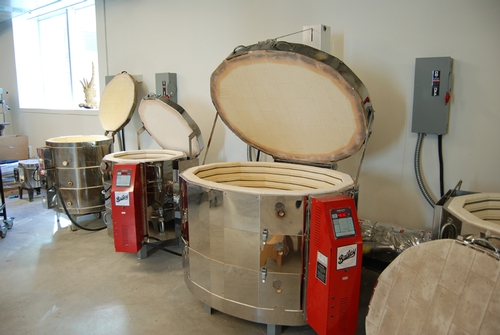 The Sculpture Suite is comprised of a mixed media 3D studio, clay mixing studio, hot shop, wood shop, and casting studio.
The Main Studio is spacious and light filled with hearty butcher block tables, individual student lockers, large sinks, and generous tool and material storage in wall hung millwork. Tools include a Soldner mixer, clay extruder, and slab roller to support work in ceramics. The glaze area provides a wide array of underglazes, glazes and raw materials for low fire surface treatments.
Our Casting Studio has a state of the art Kewanne hood for rubber and plaster mold making with a strong dust collection system for work in plaster. All of the studios are supported with handtools and equipment to support work in many sculpture media.
The Woodshop houses tools such as a table saw, panel saw, band saw, drill press, chop saw, bench sander, and lathe. Hand tools include drills, dremels, jigsaws, palm sander, laminate cutters, and routers. State of the art venitaltion minimzes dust in our studio that has generous work space and a studio length of milllwork bench for working.
Our Hotshop houses five electric kilns including three computer Bailey kilns. We also have three large Bailey gas kilns. Welding is also supported in this space with two mig Miller welders, a plasma cutter, grinders, and a Jet metal plate cutter.
Spray Booth
Students enrolled in all studio art courses have access to our spray booth which provides a state of the art and healthy enviroment for utilizing materials such as fixative, spray paint, and other dust and vapor producing materials.
Senior Studios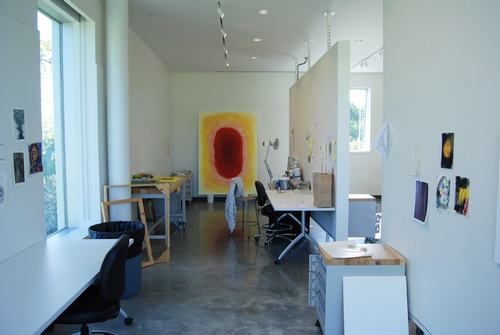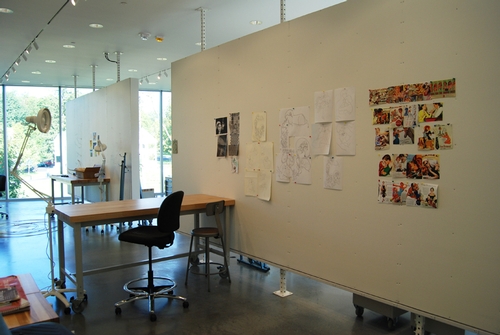 Seniors Art Concentrators in Art 501 and Art 502 are assigned a spacious semi-private studio. This studio also houses a number of tools for mixed media use and state of the ventialtion and a private spray booth.
Studio Art Classroom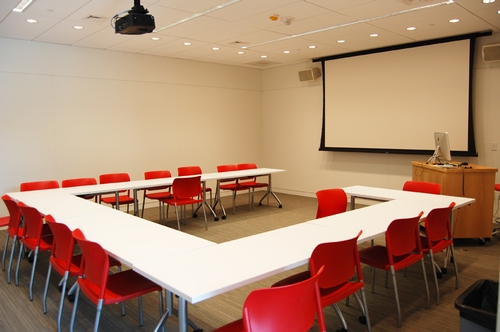 This classroom hosts our video and photography courses as well as special presentations and meetings. Faculty and students can comfortably give presentations in this room with a projector and lectern. This space houses other student and faculty gatherings.
Critique Space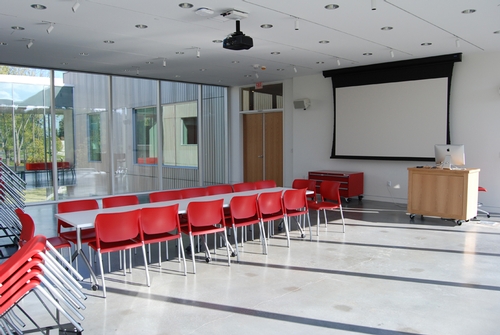 This room houses our critque and presentation space for student works in progress, roundtables, classes, and other special events hosted by the department such as small exibitions and our student art group.
Linda Johnson Gallery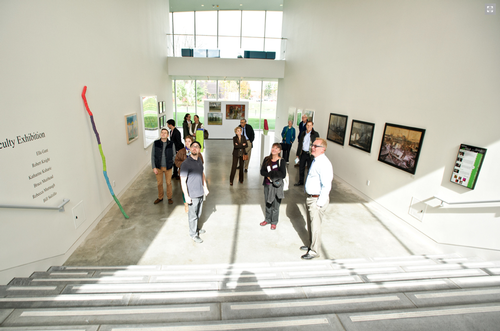 The gallery features student artwork for exhibiton and critique throughout the semester.