Helpful Links to
bioinformatics resources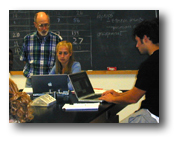 GCAT - Genome Consortium for Active Teaching (GCAT). One of the primary purposes of GCAT is to bring functional genomic methods into undergraduate curriculum primarily through student research.
BioQUEST - The BioQUEST Curriculum Consortium actively supports educators interested in the reform of undergraduate biology.
The Biology Workbench - The Biology WorkBench is a web-based tool for biologists. The WorkBench allows biologists to search many popular protein and nucleic acid sequence databases. Database searching is integrated with access to a wide variety of analysis and modeling tools.